This Pack contains 2 Drontal Chews, each one treats a dog up to 10 kg (22 lb). This pack would treat a 10 kg (22 lb) dog twice, or a 20 kg (44 lb) dog once.
Why are worms so dangerous?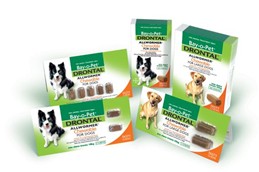 Dogs infected with worms pose a real threat to your family. And the risk to children is even greater. Kids can easily come in contact with larvae that can penetrate skin causing serious scarring and inflammation. Or even settle in the eye and cause blindness.



What can you do?
Now there's an easy way to protect your dog and family from worms. With Drontal Chewable - a proven treatment that eradicates all gastro-intestinal worms in your best friend. Drontal Chewables are made with real liver that dogs can't resist. They are so good they even come with a unique guarantee: your dog will love the chew, or Bayer will replace it with a free Drontal tablet.
Why dogs love Drontal Chewables so much?
Made with real liver - the taste dogs love

98% of dogs ate the chew within 3 minutes in palatability trials

Proven, unmatched efficacy against all major gastro-intestinal parasites,(roundworms, whipworms, hookworm and tapeworms, including hydatid tapeworm).

No more wrestling matches when administering to dogs

Easier to get into a regular worming routine as most dogs see Drontal Chews as a delicious liver treat

Unique ingredients proven through research to be more effective than any other intestinal worming treatment on the market

Australian innovation - developed and manufactured locally

Protects the health of your dog and your family
Drontal Chewable is recommended for the treatment and control of all gastrointestinal worms in dogs including:
Roundworm

Hookworm

Whipworm

Tapeworm
Directions for use
Administer the dogs correct dose by hand as a treat. Drontal Chewable is highly palatable and 98% of dogs will consume it this way. Where necessary for dosage the product may be cut with a knife to produce half chews. If necessary Drontal Chewable may be crushed and mixed in canned dog food.
Treat puppies at 2, 4, 8, 12 weeks; then 4, 5, 6 months of age.
Treat adult dogs every 3 months (6 weeks in Hydatid infested locations).
Treat pregnant/lactating bitches at mating, then 10 days before whelping and at 2 and 4 weeks after whelping, then every 3 months.

These recommendations are of a general nature. In specific instances where infestation is particularly heavy or many dogs are housed together, a veterinary surgeon should be consulted.
Safety
Drontal Chewable may be given safely to all dogs including old animals, young pups, working dogs and greyhounds. It may be given to pregnant bitches but is only clinically indicated in the last 10 days prior to whelping.
Compatability
Drontal Chewables may be combined with other treatments, for example heartworm prevention, flea or tick treatment.