Revolution for Cats 2.6 -7.5 kg Blue (5.5-16 lb)
Revolution for Cats 2.6 -7.5 kg Blue (5.5-16 lb)
Shipping:
Flat Rate per Order
Sorry but this item is currently unavailable.
Please check back at a later stage.
---
Product Description
Revolution for Cats is a topical once-a-month parasiticide providing treatment against a broad spectrum of external and internal parasites including fleas, heartworm, ear mites, hookworm and roundworm.
Kills adult fleas, flea eggs and flea larvae in the environment

Controls flea allergy dermatitis

Prevents heartworm disease

Treats and controls ear mites

Treats and controls intestinal hookworm and roundworm

Waterfast only 2 hours after application.
Application
Choose an area where licking cannot occur e.g. on the back of the neck. Part the coat until the skin is visible. Place the tip of the tube on the skin and squeeze several times to empty the contents directly onto the skin.
Water Fastness
Waterproof after 2 hours.
Safety in Cats
Revolution can be used in cats 6 weeks of age or older. Do not use in sick, debilitated or underweight animals.
NOT TO BE USED FOR ANY PURPOSE, OR IN ANY MANNER, CONTRARY TO THE LABEL DIRECTIONS UNLESS AUTHORISED UNDER APPROPRIATE LEGISLATION.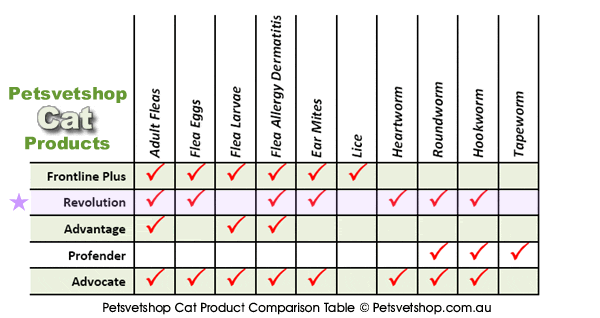 ---
Find Similar Products by Category
---